I didn't dig out my airsoft stuff, Nyxx, but I did dig out some old pics.  I haven't played in a loooong time.  The mention of it got me feeling the itch.  Might be coming up on two years.  
I figured I'd put it in a separate thread.
First, the weapons - sorry for the quality of the pictures, I think I took them on an iPod in a poorly lit apartment.
My fickle baby, my KWA M4 RIS, in two different configs.  I'd skip the 203 in the summer.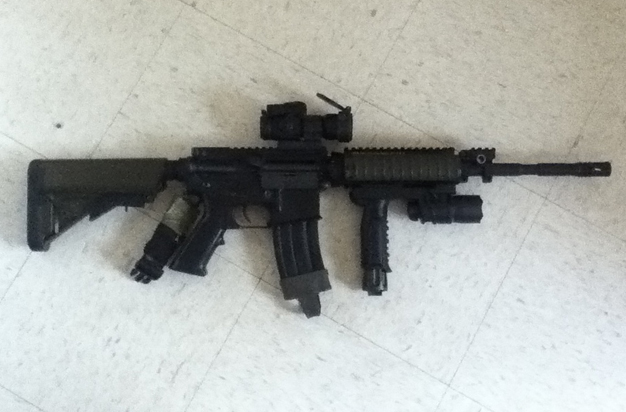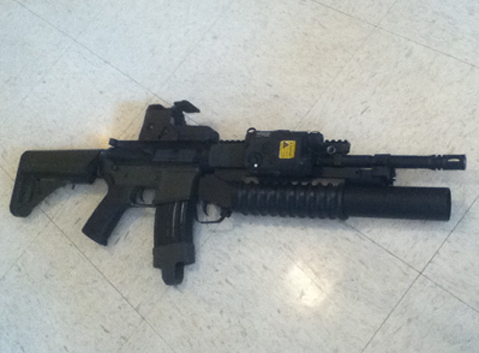 My CYMA M14.  Don't judge.  Not terrible out of the box.  Has yet to let me down.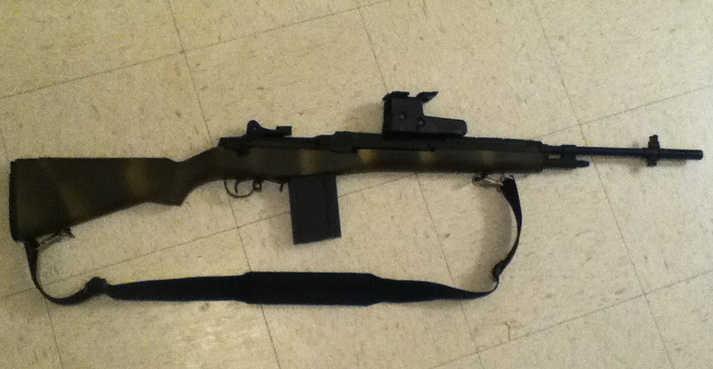 And look!  I didn't just take pictures of them on the kitchen floor, I used to play!  A lot!

Indigum

Emeritus





Posts

: 164


Join date

: 2013-08-05


Age

: 31


Location

: OH, US



Which one are you in those pictures?!
Mmm, that gun is sexy. I see that you have the same mount and aimpoint on your real steel, so is that thing real? Or are you just using clones on your real steel?

Those are some sexy attachments as well. Is that surefire a repro?
Also, not a big fan of 203s, but it looks badbutt anyways.
Well you probably have seen the ONLY airsoft gun I own, but here's what it looked like when I first got it.
It's a Javelin Full Metal Electric Blowback M4A1 (10.5 in)
It's not the best gun out there, but I love it. Got for super cheap (less than $100 including shipping).
and here it is with all the stuff I put on it.
I've changed the stock, the handguards, the sights, the flash hider, and added the grips, PEQ-15, Eotech 552 clone, the iron sights, the sling plate, and finally the 1-point/2-point sling.
And to be honest, I have never fielded this weapon :roll:It's just sitting in the hidden compartment under my table. I feel very guilty. There's a dedicated airsoft field less than 20 minutes from my apartment, but I still have yet to go to it.
One of the main reasons why I haven't gone is that I don't have any gear. No camo, vest, or mags. Airsoft is a very expensive hobby. As much as I want to pursue it, my wallet won't let me. But hey! I like customizing my gun, that's good enough for me

Uhh....I'm the guy with my guns. Some with face kevlar, some without.

You caught me. I've been using my Aimpoint clone on my AR a bit. Works surprisingly well, but not ideal. Doesn't really hold a zero. The Surefire is defintely a knock-off too, but is kinda insanely bright.

I've never messed with a Javelin. What's the FPS like, out of the box? I'm not one for upgrading, really. I kinda want one of those. I was thinking about getting a shorter barrel, but waaaay too expensive.

Your setup is sexeh. I'd get a flip-up rear on there, though. Must be hard to see anything. Battery in the PEQ box?
It is super-expensive, not only to get started, but to keep going. A terrible addiction for the wallet...one of the reasons I haven't been in a while.


Indigum

Emeritus





Posts

: 164


Join date

: 2013-08-05


Age

: 31


Location

: OH, US



You look completely different in all of those pictures, at least if I'm looking at the right guy.
Anyways, yeah, Javelin's not the most reputable airsoft manufacturer out there, and I don't know why because mine seems fairly well-built. Mine shoots around the mid 300s with .20g bbs. Perfect fps for CQC.
I do have a flip up iron sight, just don't have it on.
I was going for the mk18 mod 0 look.
And yes, the battery SHOULD go in the PEQ box, unfortunately, I still have yet to buy one that fits in there

My turn to ask questions.


Is that PEQ box functional, a battery case, or just a complete dummy?

Do you have any handguns?

What plate carrier is that? Looks pretty nice.

Did you paint that m14 yourself?

I don't look thaaat different. Slight age differences, hair/hats, and clean shaven/angry beard variations. XD

MK18s are le sex. That's actually what I wanted to buy/build next.

Battery's in the crane stock, so PEQ was a dummy. I wired up a laser pointer in it, worked surprisingly well until it somehow got stepped on and knocked loose. So it's a dummy again.

I've got a few pistols, only one real workhorse - a KJW (I think) Sig P226. There's also a 1911 and P99 in various states of disrepair floating about somewhere.

The plate carrier is just the cheap Condor one with some false plates. Great deal for the money.

Yup, I just kinda winged it with some Krylon on the 14. Turned out well, no? I painted the stock/lower/handguards on the M4, too, flat OD.

Indigum

Emeritus





Posts

: 164


Join date

: 2013-08-05


Age

: 31


Location

: OH, US



go for a m4 block 2 on the next one!!!!

Nice job on the mk18 mod0, personnaly i still prefer the mod0. The daniel defense front guard on the mod1 is terrible!!!!!!

JohnnyDouche

Senior Patrolman





Posts

: 34


Join date

: 2013-09-05




---
Permissions in this forum:
You
cannot
reply to topics in this forum